A beautiful and colorful colonial city in the center of Mexico is San Miguel de Allende. Voted "Best City in the World" By Travel and Leisure Magazine in 2017, this gem is best known for its stunning baroque Spanish architecture and small town charm.  With average high temperatures between between the 70's and 80's year round, it also has a great climate that has attracted foreigners who are now settling down in San Miguel de Allende in record numbers. Here we will discuss what makes San Miguel de Allende so special.

With a population of around 150,000 inhabitants, San Miguel de Allende has the modern day conveniences while still maintaining its small-town feel.  In the city's historic, cobblestoned center lies the neo-Gothic church Parroquia de San Miguel Arcángel has dramatic pink towers that rise high above the main plaza. The colorfully painted buildings throughout the town are muted shades of orange, pink and red that give San Miguel de Allende a cozy, earthy feel. In addition to beautiful architecture and colorful buildings, San Miguel de Allende also has a thriving arts scene and many cultural festivals are held throughout the year. Dia de Los Muertos or Day of the Dead is probably the most popular festival held in early November each year.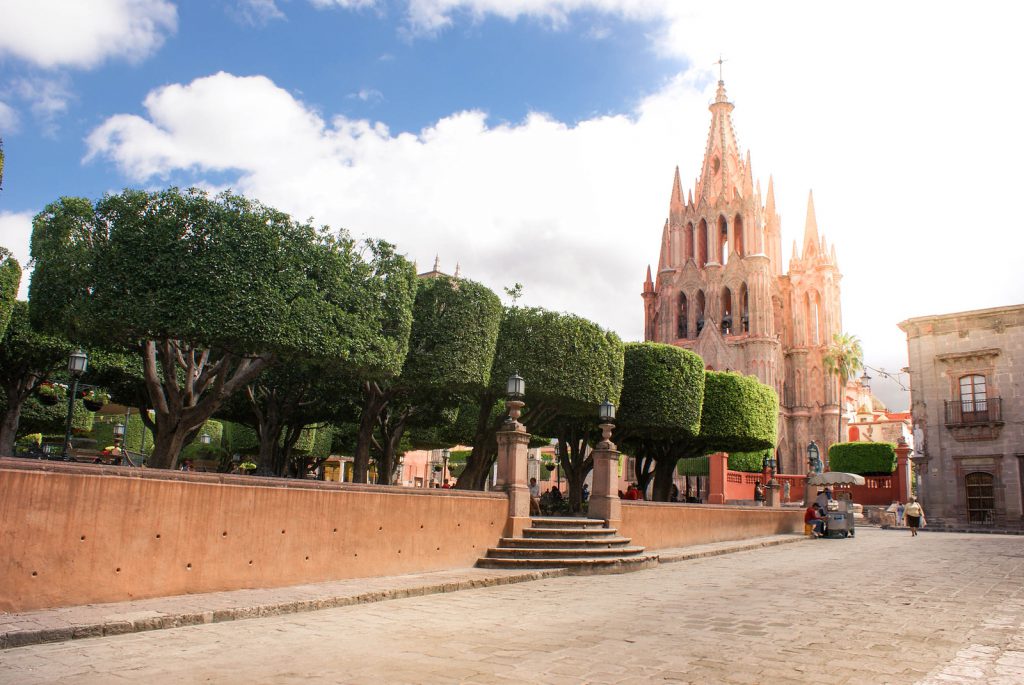 San Miguel de Allende also has a great culinary scene. From delicious bakeries to high end dining, there is something for everyone in this adorable town. Street vendors selling churros, which are sugared dough treats similar to a donut, will be found near the main square. If you are in the mood for pastries, check out the Cumpanio Bakery with its European inspired baked goods that has been delighting locals and visitors alike since 2011.  If you are in the mood for a nice dinner, don't forget to reserve a table at La Parada, one of the town's best restaurants that is inspired by Peruvian culture. On summer nights you can enjoy your meal in their lovely patio, and when it's cold outside request a table next to the fireplace inside to stay warm.

Just outside the city is a gorgeous and tranquil park named Parque Benito Juarez. The perfect place to sit back and enjoy a Mexican helado or ice cream, or work on your fitness as you take in the park's beauty during an afternoon stroll. Next time you visit Mexico, make sure to put San Miguel de Allende on the top of your list!

Share the post "The Colonial Charm of San Miguel de Allende"