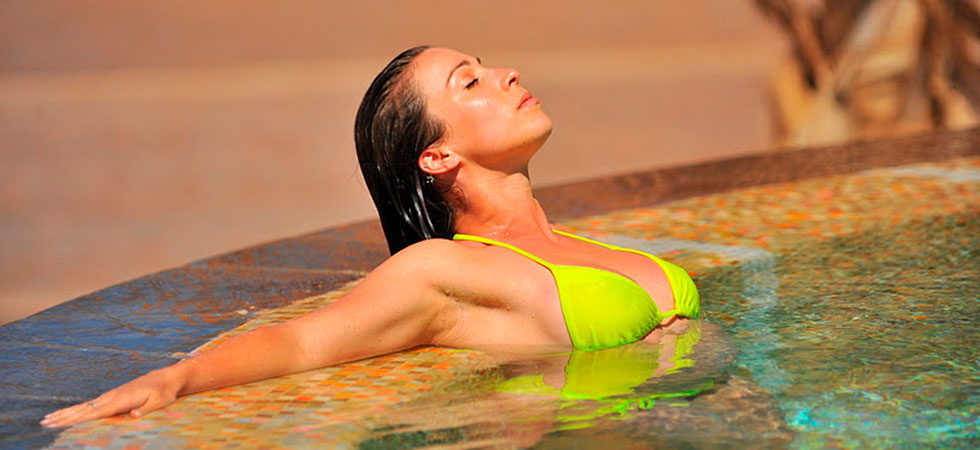 Loreto All Inclusive
Get 6 days and 5 nights
For 2 and up to 2 children
In an amazing beach front resort
What is included?
This great deal includes 6 days and 5 nights for 2 adults and up to 2 children 12 and under.
All Inclusive.
Stay in a super-comfortable, fully furnished Deluxe Suite with either two queen or one king size beds and balcony.
Complimentary fully staffed Kids Club with all day activities. Nannie and babysitting services available for an extra charge.
*Additional nights are available starting at $249USD.
Loreto By The Sea Resort & Spa is the ultimate in all inclusive luxury and tranquility, a romantic island getaway that is perfect for couples. This great all inclusive deal is an offer not to be missed.
The picturesque Baja California destination of Loreto is a quaint Mexican town on the Sea of Cortez. Surrounded by mountains, this small vacation town has a pretty boardwalk, marina, golf courses and other relaxing attractions for couples and families. The art of peaceful relaxation and tranquility are the order of the day at Loreto By The Sea.
Ask us about our flight specials - we can get you to Loreto for less than you might think.
Want to see more all inclusive cheap deals?
The Resort
The hotel epitomizes luxury within a small town while also offering complete privacy and every modern touch. The perfect place for everyone from honeymooners to large families.
The resort features 3,600 acres of unspoiled beauty. Boasting three restaurants and 20,000 square feet of turtle-shaped pools,it is minutes away from Downtown Islands of Loreto, extraordinary beaches, and world class golf courses.
Our restaurants are not limited to just extraordinary Mexican food; featuring restaurants that serve delicious steaks to fine Italian food that tempts every palate. You can even cook up dinner your own room in the private "gourmet chef's kitchen". Naturally, all the amenities that guests have come to expect are here too.
Amenities
Four fire-pits on the beach which feature low level lighting to allow Loreto's night sky to sparkle even more
Full-service water activities center
Tennis courts ($)
18 hole golf course at the Loreto Bay project, 30min. away from the Resort ($)
Free form, multi-level swimming pools
Fun hiking trails that lead to awe-inspiring waterfalls at la Sierra de la Giganta ($)
Restaurants, convenience stores ($), and bars
Full kitchen
Full furnishing with finely crafted wood furniture
LCD televisions
Marble floors
Granite countertops
Spacious 10ft balconies with patio furniture to enjoy the amazing views
Seafood restaurant that serves the fresh catch of the day
Deluxe Suite - $399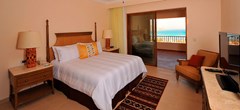 Your deluxe suite invites you to enjoy cool days of relaxation in our air conditioned rooms, or just the soothing breeze from one of the palapa-inspired ceiling fans. And of course, an afternoon siesta is always awaiting you on your luxurious balcony with amazing views. Here at the resort of relaxation and luxury, you're guaranteed a 'perfect-moment' whether you want to snack on a meal you made with ease in your kitchenette or just had delivered onto your balcony.
Each luxurious accommodation in the Villa Del Palmar Resort offers every 'home-away-from-home' necessity you may need. The Deluxe Suite offers 2 double or 1 queen beds.
Amenities and services
Air conditioning
Climate control
Ceiling fan
Private Balcony or terrace
Phone
Hair Dryer
Kitchenette
Microwave
Blender
Toaster
Coffee maker
Daily housekeeping
In-room safe
Ironing Board
F.A.Q.
Why is this package so affordable?
We offer deep discounts on getaway travel at preview rates with the purpose of introducing travelers to vacation ownership options for long-term savings. We will provide a buffet breakfast and a tour of the resort, and explain the many benefits of becoming a member with us. The choice to make a vacation ownership purchase is a personal decision, but the choice to buy a discounted vacation package and preview our resort has never been easier.
How are we able to offer such significant discounts?
Our vacation ownership club does not believe in traditional advertising, we believe in word of mouth and instead of marketing through different channels; we use our marketing dollars targeted towards those people who have shown the highest propensity to purchase Vacation Ownership, and therefore we are able to offer significant savings on vacation packages. During your stay we are confident that you'll have such a great experience that you'll tell all of your friends and family about us.
Do I have to purchase a vacation ownership membership?
As a VIP guest you are under no obligation to purchase.
Is this price per person or per night ?
The price shown is per qualified couple for the designated number of nights. Please see the Terms and Conditions or Details of Participation for any additional charges or call us to speak with one of our Reservation Specialist.
How many rooms are at the Loreto By The Sea resort?
The Villa del Palmar Loreto Resort has a total of 178 rooms.
How many stars is the loreto By The sea resort
The Villa del Palmar is a 5 Star Resort.
Are additional rooms available at a discounted rate?
Additional rooms may be available at a discounted rate. This can easily be arranged by contacting us.
How do I get directions to the resort?
Maps and directions to the resort will be provided in your email confirmation
Are handicapped rooms available?
Handicapped rooms are available upon request (subject to availability). Please call us for more information.
What is the cancellation policy?
Please click on TERMS AND CONDITIONS or DETAILS OF PARTICIPATION to view the cancellation policy. The cancellation policy can also be found in your confirmation that is emailed to you after making a reservation
What time is check-in and check-out ?
Check-in time is at 4:00pm and check-out time is 11:00am.
Are smoking rooms available?
Yes, smoking rooms are available upon request (subject to availability).
Is a breakfast buffet or continental breakfast provided?
Yes, the Villa del Palmar Loreto does provide a continental breakfast
Is childcare provided during the 90 minute presentation?
No, childcare is not provided during the 90 minute presentation.
Where and when is my 90 minute presentation?
Your presentation will be on the next morning of your arrival at the Loreto By The Sea Resort. The day and time of your presentation will be scheduled at check-in.
How much is the security deposit?
When was the resort built?
For information on when the resort was built or renovated, please contact us.
Does the resort have dining available?
Yes, Loreto By The Sea Resort does feature on-site dining.
Which resort will I be staying at?
You will be staying at the Loreto By The Sea Resort.
Does the resort have internet access?
Yes, the resort does offer internet access, for no additional cost.
How do I qualify for this package?
Please review the Terms and Conditions or Details of Participation to see if you qualify, or you may call us and speak with one of our Reservation Specialists
Is there a Shuttle from the Airport to the Resort?
Yes, one-way shuttle transportation is available from the airport to the resort at an additional cost.
Does the resort have car rentals available onsite?
How many people does a Studio Suite accommodate?
The studio suite accommodates a maximum of 2 Adults and 2 Children. Please see the Details of Participation for any age restrictions, or additional guest charges
Map
Reviews
We had some wonderful servers that we appreciated very much! Yasor (spelling ?), Marco, Guillimo and Jorge down on the beach! Ramon at the paddle board station was most helpful and such a gentleman! The gentlemen went out of their way to please. We appreciated every effort they put in. All of the staff was exceptional to us. I'm sure I am leaving some names out. We thank you for provided the best staff to guests as you have.
We would like to acknowledge the exceptional customer service provided by YARIZ, MANNY, GIRARDO, CANDELARIO, & SANTIAGO. In fact, the entire restaurant/serving staff was fantastic. We would also like to acknowledge OSCAR TORRES for his gracious efforts. Also, we LOVED your activities team, EDUARDO, ZAZIL, GENESIS, KAREN, DUVIS & RAMON. The shows were enjoyable and made our stay so much fun! CARLOS ZAMORA in Premium Services and OMAR, the shuttle driver, were extremely professional, helpful and wonderful to work with. We would also like to mention that MARIO from Wild Tours was terrific! Our vacation at Villa del Palmar was one of our best ever!!!
We couldn't have been more happy with the food and service we received during our stay. The staff was unbelievable. They were always greeting us with a smile, and many learned our names and greeting us on a first name basis. On our anniversary night at Dazante restaurant they had a placard with our names on it, and brought us dessert with a firework in it and captured that moment on camera for us. I've never been treated better anywhere in my life! At the pool, Manny was exceptional and had another drink (usually 2) ready for me once my current drink was nearing the bottom :) We have already been recommending Villa Del Palmar Loreto to family and friends!
Dinner and a show was fun. The breakfast and dinner buffets were excellent. I looked forward to the selections each day. Oh how I miss them.
You have 2 options to book
Option 1
Book Online
Click the button below to start booking.
Option 2
Book thru a Reservations Agent
Toll Free to the next Phone Number
1 800 607 7499
Villa Group Resorts is making this vacation package offer available to you. Besides meeting the qualifications and attending the Vacation Ownership presentation, there are no other obligations. Come enjoy your stay with us and learn about the benefits of Vacation Ownership!
Once you've booked your vacation with us, we will send a confirmation email to you with all the necessary reservation information. Please print out your confirmation email and have it present with you at time of check-in. Bienvenidos!
This package is non-transferable.
This confirmation must be printed and presented upon check in at the resort.
Primary Travelers must meet the Resort's Qualification
Credit Card
GUESTS WITHOUT A VALID CREDIT CARD WILL NOT BE ALLOWED TO CHECK IN TO THE RESORT UPON ARRIVAL.
Qualified customer/s Must bring with them to the Presentation a Major Credit Card (No Debit Cards, Check Cards, Company Cards or Discover Cards).
Presentation
Attendance to a 90 minute vacation ownership presentation at The Villa Group Resort the day after arrival is required.
You cannot attend another vacation ownership presentation during your visit to the destination.
You are not eligible if you have previously toured any of The Villa Group resorts within 12 months or less and more than 2 times through the same promotion.
Age
At least one of the qualified participants must be between 30-70 years of age and be legally able to execute a contract.
Income
US Citizens/Residents with a minimum $50,000 USD Annual Household Income.
Canadian Citizens/Residents with a minimum $75,000 Canadian Dollars Annual Household Income.
Not a full time student and in a full time employment at the time of travel.
Language
Both qualified participants must be fluent in English or Spanish.
Identification
Guests must present a major credit card and valid photo ID at the tour reception desk.
Married couples must bring with them proof of such (Matching I.D, matching utility bills, matching bank statements, marriage certificate and/or lease agreement).
Marital Status
Offer is valid for married couples and legally single woman.
Both must attend the presentation as well as singles traveling with boyfriend or girlfriend.
Singles
A legally single female that is a citizen or permanent resident of the USA who meets all qualifications on her own can and are between 30 - 70 years of age also qualify for this promotional offer.
Single Men - between the ages of 35 and 59.
Countries
Offer is valid only for citizens of the USA or Canada, or permanent residents who have a minimum of 5 years of residency.
Group Travel
Maximum of 8 people per tour between adults and children. Maximum of 8 people per tour. Specifically in a ratio of 4 adults and 4 children.
Only one package purchases per group are allowed for this promotion. If friends and/or family traveling together exceed the amount of allowed packages sold, the benefits of the promotion will be negated and the full rack rate will be charged to the original purchasing credit cards of the group as a whole. Travelling together is understood as any group of family and/or friends that take advantage of the same promotion during similar dates, same destination, and attending the same resort presentation. Omission of information and/or misleading of pertinent information regarding group travel will be subject to the above mentioned penalizations.
When friends or/and family are traveling together the benefit of the promotion will only apply for the first two qualified registered couples.
Additional Terms
Relatives of timeshare industry employees and timeshare industry related individuals, Villa Group Vacation Club members, guests coming through a referral program, property owners in Los Cabos, Puerto Vallarta or Cancun do not qualify for this promotion.
There is no obligation to purchase. Package Purchasers not meeting the above qualifications, not completing the 90 minute tour, or giving purposeful misleading information, and/or omitting relevant information regarding package qualifications, will negate this promotion and be subject to being charged the full rack rate to the credit card of original package purchase.
To receive this Significantly Discounted Package you are obligated to participate in the 90 minute informative tour of the resort sponsoring your vacation.
Vacation Packages are an advance package purchase and price is not refundable. • A major credit card must be presented upon check in for incidental room charges and to qualify for this promotion. (Please note that company credit cards, discover, or debit/check cards do not qualify).
Villa Group Resorts reserves the right to cancel and/or change your reservation location to an equal or better resort as circumstances so require it. If an equal or better resort cannot be secured a full refund of your money will be awarded to your account.
IMPORTANT: FAILURE TO ABIDE BY OR MEET THESE TERMS AND CONDITIONS WILL INCUR A $480 USD CHARGE TO YOUR CREDIT CARD.
Within 72 Hours of Arrival
If you need to re-schedule or cancel within seventy-two (72) hours of your arrival date, you may incur fees equivalent to one night hotel stay.
No Show, Early Checkout or Unused Nights
No refunds will be given for no-shows, early checkouts or unused nights.
GET THIS AMAZING PACKAGE FOR ONLY
$399
BOOK NOW