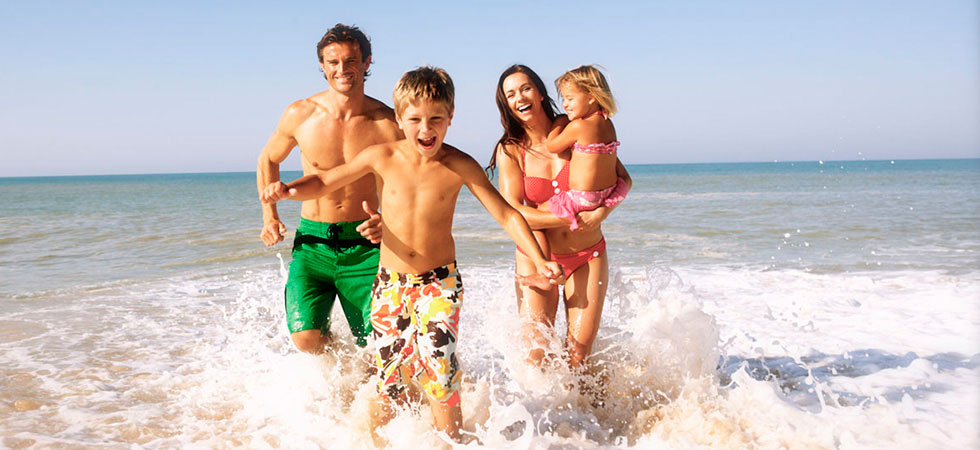 Cabo San Lucas All Inclusive Package
Get 6 days and 5 nights
For 2 and up to 2 children
In an amazing beach front resort
What is included?
This great deal includes 6 days and 5 nights for 2 adults and up to 2 children 12 and under.
All Inclusive plan.
Stay in a super-comfortable, fully furnished Junior Villa Suite with either two or one queen size beds and balcony.
*Additional nights are available starting at $299USD.
Just a few minutes walk from downtown Cabo San Lucas, this 5 star all inclusive resort is one of the privileged hotel complexes in Cabo to be located on the beach. Its large swimming pools with waterfalls and a fun whale slide make it a perfect place for a family vacation, while its location is ideal for couples who wish to take advantage of what downtown Cabo has to offer.
Whether on water or on land, Cabo San Lucas has a number of fun and adventurous activities for all ages: sunset cruises, camelback desert tours, golfing, whale and sea lion watching, zip lining, to name but a few. Take advantage of this Villa del Palmar all inclusive package today and secure wonderful memories for the future.
The Resort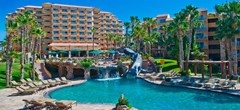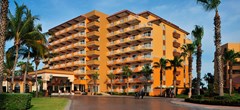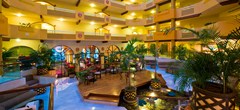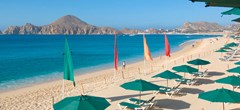 As you enter the nine storey atrium lobby with its eye-catching waterfalls, amazing aquarium, and seashell chandeliers, you can feel the luxury that is the resort. Our newly renovated Villa suites offer amazing views from your furnished balcony and terrace. Our daily activities at the pool area are just what you need to relax and soak up the sun. Your children will love our slip 'n' slide Willy the Whale water slide, or checking out the high-energy vibe at our techno-arcade. Work out in our state-of-the-art fitness facility, or relax and pamper yourself in our world class full service Desert Spa. Afterwards take the family to the on-site ice cream parlor!
Amenities
Beach Front
Outdoor Pools (3)
Water Slide
Outdoor Jacuzzis
Restaurants (2)
Pizza Parlor
Ice Cream Parlor ($)
Sports Bar
Poolside Bar
Video Arcade ($)
Full European spa ($)
Fitness Club
Tennis
Jewelry, Pewter, Arts & Crafts Shops (on-site) ($)
Palmita Market and Pharmacy ($)
Motor Scooter Rentals ($)
Horseback Riding ($)
Video Rental Store ($)
Wireless Internet (in-room), Common Areas and Internet Café ($)
All Resort Fitness and Recreation Facilities
All Resort Activities and Entertainment
Non-Motorized Water-Sports Equipment
Junior Villa Suite - $399
Your Junior Villa Suite offers all the room you need to kick back and relax. There are 2 double or 1 queen beds, and the bathroom features marble accented tub and shower. The fully-equipped kitchen, breakfast bar and balcony or terrace make it easy to accommodate two adults and two children.
Amenities and services
Air conditioning
Climate control
Ceiling fan
Private Balcony or terrace
Fully Equipped Kitchenette
Fridge
Coffee maker
Toaster
Blender
Microwave
Premium television channels
Phone
Daily housekeeping
Electronic/magnetic keys
F.A.Q.
Why is this package so affordable?
We offer deep discounts on getaway travel at preview rates with the purpose of introducing travelers to vacation ownership options for long-term savings. We will provide a buffet breakfast and a tour of the resort, and explain the many benefits of becoming a member with us. The choice to make a vacation ownership purchase is a personal decision, but the choice to buy a discounted vacation package and preview our resort has never been easier.
How are we able to offer such significant discounts?
Our vacation ownership club does not believe in traditional advertising, we believe in word of mouth and instead of marketing through different channels; we use our marketing dollars targeted towards folks who have shown the highest propensity to purchase Vacation Ownership, and therefore we are able to offer significant savings on vacation packages. During your stay we are confident that you'll have such a great experience that you'll tell all of your friends and family about us
Do I have to purchase a vacation ownership membership?
As a VIP guest you are under no obligation to purchase.
Is this price per person or per night?
The price shown is per qualified couple for the designated number of nights. Please see the Terms and Conditions or Details of Participation or call to speak with one of our Reservation Specialist.
How many floors are at the Villa del Palmar Cabo?
The Villa del Palmar Cabo has a total of 8 floors.
How many rooms are at the Villa del Palmar Cabo?
The Villa del Palmar Cabo has a total of 460 rooms.
How many stars is the Villa del Palmar Cabo?
The Villa del Palmar Cabo is a 5 Star Resort.
Are additional rooms available at a discounted rate?
This promotional price is limited to the first room. Additional rooms may be available at a discounted rate. This can easily be arranged by contacting us by phone. Same package available for friends and family members if travelling in different dates.
Does the resort allow pets?
How do I get directions to the resort
Maps and directions to the resort will be provided in your email confirmation
Are handicapped rooms available?
Handicapped rooms are available upon request (subject to availability). Please call us for more information.
Which airport is closest to the resort?
San Jose del Cabo International Airport (SJD) which is approximately 15 miles or 30 minutes from the Villa del Palmar Cabo
What is the cancellation policy?
Please click on TERMS AND CONDITIONS or DETAILS OF PARTICIPATION to view the cancellation policy. The cancellation policy can also be found in your confirmation that is emailed to you after making a reservation.
What time is check-in and check-out?
Check-in time is at 3:00pm and check-out time is 12:00pm
Are smoking rooms available?
Yes, smoking rooms are available upon request (subject to availability).
Is a breakfast buffet or continental breakfast provided?
yes the Villa del Palmar Cabo does provide breakfast. Room only guest only one breakfast the following morning
Do the rooms have balconies/patios?
Yes, each room has a furnished balcony or patio
Is childcare provided during the 90 minute presentation?
No, childcare is not provided during the 90 minute presentation.
Where and when is my 90 minute presentation?
Your accommodation will be at Villa del Palmar Cabo, and your tour of the resort will be in our sister resort Villa del Arco, this is the location for your 90 minute resort sales presentation. A link to map and directions will be provided in an email confirmation that will be sent to you upon booking a reservation. The day and time of your presentation will be scheduled at check-in.
How much is the security deposit?
What is the Villa del Palmar Cabo address and contact information?
Km 0.5 Camino Viejo a San Jose Cabo San Lucas, Mexico 23410
Is the Villa del Palmar Cabo located by the beach?
Yes, the Villa del Palmar is a beach front porperty
When was the resort built?
For information on when the resort was built or renovated, please contact us.
Does the resort have dining available?
Yes, the Villa del Palmar does feature on-site dining.
Which resort will I be staying at?
You will be staying at the Villa del Palmar Cabo.
Does the resort have internet access?
Yes, the resort does offer internet access, for an additional cost.
How do I qualify for this package?
Each vacation package has unique qualifications set forth by the resort developer. Please review the Terms and Conditions or Details of Participation to see if you qualify, or you may call us and speak with one of our Reservation Specialists.
Is there a Shuttle from the Airport to the Resort?
Yes, the resort does offer a shuttle service from the airport to the resort only one way. At an additional cost
Is parking complimentary at Villa del Palmar Cabo?
Yes, Parking is available at Villa del Palmar Cabo. Please call us for more information.
Does the resort have car rentals available onsite?
How many people does a Junior Villa Suite accommodate?
The Junior Villa Suite accommodates a maximum of 4, 2 Adults and 2 Children (Children must be under the age of 12 years old). Please see the Details of Participation for any age restrictions, or additional guest charges.
How many people does a One Bedroom accommodate?
The One Bedroom accommodates a maximum of 4. Please see the Details of Participation for any age restrictions, or additional guest charges.
Is group travel allowed?
Group Travel is not allowed however our certificates are available for qualified couples booking for different dates.
Map
Reviews
Top notch Staff at the hotel. THEY are what made my staff absolutely excellent!!! Hector from poolside was working for us 100% +. Gerardo from the nightly Buffet treated us like Kings and Queens and Estaban from Bella CA was our breakfast guy every morning who greeted us with smiles and laughter!
I had a wonderful weekend with my husband, everything was perfect. Nice hotel & very friendly staff
Just returned from a marvelous stay at Villa del Palmar. I return to this hotel year after year and one of the main reasons is the outstanding staff. They make your stay there feel like home. All though the entire staff is great I would like to bring special attention to 2 groups. First of all the Bellboys. They're the friendliest and most helpful group in that position of any hotel I've ever stayed at. And last but not least the front desk staff. The entire group is super but the front desk supervisor Rogelio Hernandez is truly outstanding. He takes customer service to the highest level and always with a smile on his face. If I ever have an issue of any kind he takes the time to make sure it's taken care of to my satisfaction. I can't wait to back to this hotel next year and see members of the staff that are starting to feel like family.
This is our third stay at Vill del Palmar and it is always perfect. Everyone at the resort is wonderful from Liz is the breakfast area to the manager Victor who always see's that our request are met. We have stayed at many all-inclusive resorts and this one is the best with views of Lover's Beach across the hotel. I highly recommend this resort. You will not be disappointed.
You have 2 options to book
Option 1
Book Online
Click the button below to start booking.
Option 2
Book thru a Reservations Agent
Toll Free to the next Phone Number
1 800 607 7499
Villa Group Resorts is making this vacation package offer available to you. Besides meeting the qualifications and attending the Vacation Ownership presentation, there are no other obligations. Come enjoy your stay with us and learn about the benefits of Vacation Ownership!
Once you've booked your vacation with us, we will send a confirmation email to you with all the necessary reservation information. Please print out your confirmation email and have it present with you at time of check-in. Bienvenidos!
This package is non-transferable.
This confirmation must be printed and presented upon check in at the resort.
Primary Travelers must meet the Resort's Qualification below.
Credit Card
GUESTS WITHOUT A VALID CREDIT CARD WILL NOT BE ALLOWED TO CHECK IN TO THE RESORT UPON ARRIVAL.
Qualified customer/s Must bring with them to the Presentation a Major Credit Card (No Debit Cards, Check Cards, Company Cards or Discover Cards).
WE ONLY ACCEPT VISA, MASTERCARD or AMERICAN EXPRESS that are NOT associated with your bank accounts.
The qualifying person(s) MUST be the credit card holder. Expired credit cards DO NOT QUALIFY.
Presentation
Attendance to a 90 minute vacation ownership presentation at The Villa Group Resort the day after arrival to Mexico is required.
You cannot attend another vacation ownership presentation during your visit to the destination.
You are not eligible if you have previously toured any of The Villa Group resorts within 12 months, or more than 2 times through the same promotion.
Age
Married couples - at least one person must be between the ages of 30 and 70.
Legally single women - between 30 to 70 years of age
Legally single men - between 35 and 59 years of age.
Income
Minimum $50,000 USD Annual Income (singles must meet this qualification on their own, combined income for married couples).
Must be employed full time - part time employment does not qualify.
Must not be a full time student.
Language
Both qualified participants must be fluent in English or Spanish.
Identification
The qualified person must present a major credit card and government issued photo ID at the tour reception desk.
Married couples must bring with them proof of such (Government issued picture ID with matching addresses, and/or marriage certificate and/or lease agreement).
Marital Status
Offer is valid for married couples and legally single women or men.
All guests must attend the presentation, including all persons in the reservation(s).
Countries
Offer is valid only for residents of the USA or Canada who meet all other qualifications. Valid USA or Canadian government issued ID must be presented by all guests.
Group Travel
Maximum of 8 people per tour between adults and children. Specifically in a ratio of 4 adults and 4 children.
Only one package purchase per group are allowed for this promotion. If friends and/or family staying at the same resort together exceed the amount of allowed packages sold, the benefits of the promotion will be negated and the full rack rate will be charged to the original purchasing credit cards of the group as a whole. Staying together is understood as any group of family and/or friends that take advantage of the same promotion during similar dates, same destination, and attending the same resort`s presentation. Omission of information and/or misleading of pertinent information regarding group travel will be subject to the above mentioned penalizations.
Additional Terms
Relatives of timeshare industry employees and timeshare industry related individuals, Villa Group Vacation Club members, guests coming through a referral program, property owners in Los Cabos, Puerto Vallarta or Cancun do not qualify for this promotion.
There is no obligation to purchase. Package Purchasers not meeting the above qualifications, not completing the 90 minute tour, or giving purposeful misleading information, and/or omitting relevant information regarding package qualifications, will negate this promotion and be subject to being charged the full rack rate to the credit card of original package purchase.
If you don't meet the qualifications, you may be housed and toured at an alternative accommodations provider and not permitted to enjoy the benefits of experiencing the activities and/or amenities offered by sponsoring resorts.
To receive this Significantly Discounted Package you are obligated to participate in the 90 minute informative tour of the resort sponsoring your vacation on the next day of your arrival.
Vacation Packages are an advance package purchase and price is not refundable.
A major credit card must be presented upon presentation check in to qualify for this promotion And must be shown by the customer that qualifies for this promotional package. (Please note that company credit cards, discover, or debit/check cards do not qualify).
Villa Group Resorts reserves the right to cancel and/or change your reservation location to an equal or better resort as circumstances so require it. If an equal or better resort cannot be secured a full refund of your money will be awarded to your account.
VILLA GROUP RESORTS RESERVES THE RIGHT TO ALTER ITS TERMS AND CONDITIONS AND TERMS OF PROMOTIONS AS DEEMED NECESSARY BY OPERATIONAL PROCEDURES AND/OR AS OTHERWISE MANDATED BY STATE OR FEDERAL LAWS. THIS OFFER SUPERSEDES ALL OTHER REPRESENTATIONS MADE IN REGARD TO THIS OFFER, VERBAL OR WRITTEN AND VGR ASSUMES NO RESPONSIBILITY FOR ANY VERBAL OR WRITTEN REPRESENTATIONS MADE IN CONJUNCTION WITH THIS OFFER OTHER THAN THOSE SPECIFICALLY STATED HEREIN.
IMPORTANT: FAILURE TO ABIDE BY OR MEET THESE TERMS AND CONDITIONS WILL INCUR A $480 USD CHARGE TO YOUR CREDIT CARD.
Within 72 Hours of Arrival
If you need to re-schedule or cancel within seventy-two (72) hours of your arrival date, you may incur fees equivalent to one night hotel stay.
No Show, Early Checkout or Unused Nights
No refunds will be given for no-shows, early checkouts or unused nights
GET THIS AMAZING PACKAGE FOR ONLY
$399
BOOK NOW