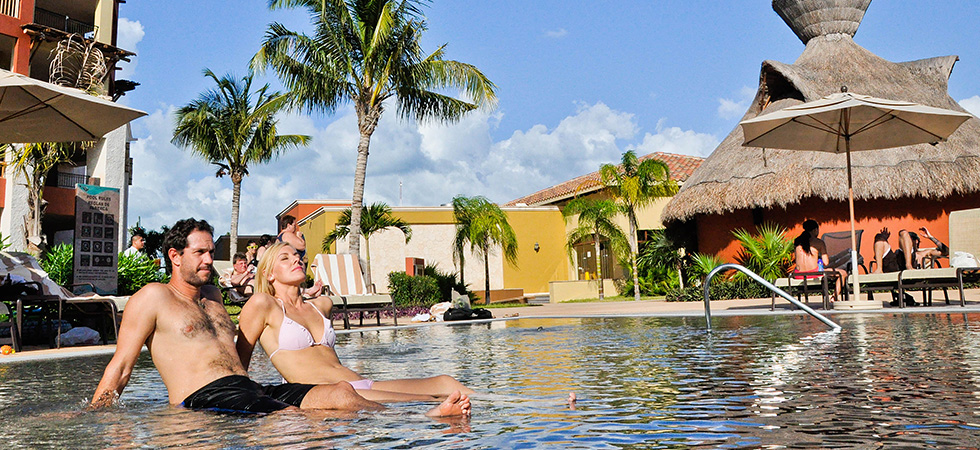 Cancun Palmar All Inclusive
Get 6 days and 5 nights
For 2 and up to 2 children
In an amazing beach front resort
What is included?
This great deal includes 6 days and 5 nights for 2 adults and up to 2 children 12 and under.
All Inclusive.
Stay in a super-comfortable, fully furnished Luxury Suite with either two queen or one king size beds and balcony.
Complimentary fully staffed Kids Club with all day activities. Nannie and babysitting services available for an extra charge.
*Additional nights are available starting at $249USD.
Home to the wonderful mysteries of Mexico's ancient Mayan heritage, Cancun is waiting for you with this great all inclusive vacation package. In one of Mexico's most idyllic destinations, Cancun is blessed with a powder-white sandy beach complemented by the turquoise gentle waters of the Caribbean sea. Indeed, this 5 star all inclusive resort offers a truly magical vacation experience.
Located in an exclusive location, set away from the noise and bustle of the hotel zone, Villa del Palmar, Cancun is a Caribbean oasis poised to offer the very best resort services: a world class spa, gourmet restaurants, a fully-staffed kids club, 5 pools including an adults only and kids pool as well as family entertainment. There is no doubt you will get value for money with this all inclusive deal.
The Resort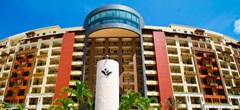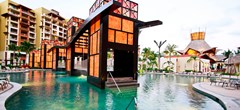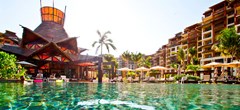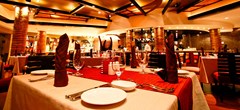 The resort in Playa Mujeres is a brand new 5-star Resort featuring deluxe garden view studio suites in a unique 9-storey U-shaped building with access via exterior corridors. All rooms are decorated with marble floors, granite countertops and full furnishings with finely crafted wood furniture. Feel the luxury as soon as you arrive.
When you visit the resort, expect to feel at home immediately in unprecedented comfort. This is so much more than a resort...this is your second home.
Playa Mujeres is a beach area about 25 minutes north of Cancun's hotel zone and 35 minutes from the airport. The area is home to the Playa Mujeres resort complex and the Playa Mujeres Golf Club, with a course designed by Greg Norman.
The resort is the pinnacle of luxury in Cancun, offering amazing 5-star service, extravagant amenities, and plenty of activities to keep your adventurous side entertained.
Amenities
Expansive private beach areas
5 pools including kids pool with water bridge, adults only pool, and infinity pool
3 outdoor jacuzzis
Full service health spa ($)
Fitness center
Tennis courts
Golf ($)
Water Sports ($)
Kayaking along the coast
Specialty Restaurants for an evening of fine dining filled with romance and enticement.
Snack Bar serving lunch, snacks and drinks during the day (included)
Our deli serves delicious sandwiches and other snacks to satiate any on-the-go appetite ($)
Restaurants
Included in All Inclusive package

Gourmet Restaurants

Zamá Restaurant - Gourmet Mexican menú
Davino Restaurant - Mediterranean cuisine

Bars

Bites Bar & Grill
Tiki Beach Bar
Lobby Bar
Davino Bar

Not Included in All Inclusive Package

Caprichos - World Cuisine & More
Hiroshi - Sushi and Asian cuisine
La Casona STK - A modern steakhouse
The Casona Bar

Drinks are free at the restaurants that are not included, as long as you dine there.
Luxury Suite - $399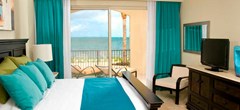 This deluxe studio transports you from everyday-life to another place entirely. Youll feel blanketed in luxury and tranquility. Enjoy the modern touches that we've used to ensure nothing is lacking. Sweet dreams will be yours in each of the one king or two queen beds, complete with fine linens and cozy pillows. Take a nap in your hammock on your private balcony or terrace. This over-sized room easily accommodates two adults and two children, or three adults.
Amenities and services
One king size or two queen size beds
Air conditioning
Climate control
Ceiling fan
Private Balcony or terrace
Toaster
Fridge
Coffee maker
Premium television channels
Phone
Daily housekeeping
Safe deposit box
Electronic/magnetic keys
F.A.Q.
Why is this package so affordable?
We offer deep discounts on getaway travel at preview rates with the purpose of introducing travelers to vacation ownership options for long-term savings. We will provide a buffet breakfast and a tour of the resort, and explain the many benefits of becoming a member with us. The choice to make a vacation ownership purchase is a personal decision, but the choice to buy a discounted vacation package and preview our resort has never been easier.
How are we able to offer such significant discounts?
Our vacation ownership club does not believe in traditional advertising, we believe in word of mouth and instead of marketing through different channels; we use our marketing dollars targeted towards folks who have shown the highest propensity to purchase Vacation Ownership, and therefore we are able to offer significant savings on vacation packages. During your stay we are confident that you'll have such a great experience that you'll tell all of your friends and family about us
Do I have to purchase a vacation ownership membership?
As a VIP guest you are under no obligation to purchase.
Is this price per person or per night?
The price shown is per qualified couple for the designated number of nights. Please see the Terms and Conditions or call us to speak with one of our Reservation Specialist.
How many rooms are at the Villa del Palmar Cancun?
Villa del Palmar has a total of 415 rooms.
How many stars is the Villa del Palmar Cancun?
Villa del Palmar is a 5 Star Resort.
Are additional rooms available at a discounted rate?
This promotional price is limited to the first room. Additional rooms may be available at a discounted rate. This can easily be arranged by contacting us by phone. Same package available for friends and family members if travelling in different dates.
Does the resort allow pets?
Are handicapped rooms available?
Yes upon request (subject to availability). Please call us for more information.
Which airport is closest to the resort?
Cancun International Airport (CUN) which is approximately 35 minutes from the Villa del Palmar
What is the cancellation policy?
Please click on TERMS AND CONDITIONS or DETAILS OF PARTICIPATION to view the cancellation policy. The cancellation policy can also be found in your confirmation that is emailed to you after making a reservation.
What time is check-in and check-out?
Check-in time is at 3:00pm and check-out time is 12:00pm
Are smoking rooms available?
Yes, smoking rooms are available upon request (subject to availability).
Do the rooms have balconies/patios?
Yes, we offer rooms with balcony or patio with furniture
Is childcare provided during the 90 minute presentation?
No, childcare is not provided during the 90 minute presentation.
Where and when is my 90 minute presentation?
Villa del Palmar will be the location for your 90 minute resort sales presentation. A link to map and directions will be provided in an email confirmation that will be sent to you upon booking a reservation. The day and time of your presentation will be scheduled at check-in.
What is the Villa del Palmar Cancun address and contact information?
Careterra Punta Sam Km. 5.2, Mz 9, lote 3, SM 2, Cancun Mexico 77400
Is the Villa del Palmar Cancun located by the beach?
Yes, we are a beach front property
When was the resort built?
The resort was built in 2010, the grand opening of this marvelous resort was December 24, 2010.
Does the resort have dining available?
Yes, the Villa del Palmar Cancun does feature on-site dining.
Which resort will I be staying at?
You will be staying at the Villa del Palmar
Does the resort have internet access?
Yes, the resort does offer internet access, for an additional cost.
How do I qualify for this package?
Each vacation package has unique qualifications set forth by the resort developer. Please review the Terms and Conditions or Details of Participation to see if you qualify, or you may call us and speak with one of our Reservation Specialists.
Is there a Shuttle from the Airport to the Resort?
No, the resort does not offer a shuttle service from the airport to the resort.
Is parking complimentary at Villa del Palmar Cancun?
Yes, Parking is available Please call us for more information.
Does the resort have car rentals available onsite?
How many people does a deluxe studio accommodate?
The deluxe studio accommodates a maximum of 4, 2 Adults and 2 Children (Children must be under the age of 12 Years old). Please see the Details of Participation for any age restrictions, or additional guest charges.
How many people does a One Bedroom accommodate?
The One Bedroom accommodates a maximum of 4 adults or 2 adults and 3 children under (12). Please see the Details of Participation for any age restrictions, or additional guest charges.
Is group travel allowed?
Group Travel is not allowed however our certificates are available for qualified couples booking for different dates.
Map
Reviews
You have 2 options to book
Option 1
Book Online
Click the button below to start booking.
Option 2
Book thru a Reservations Agent
Toll Free to the next Phone Number
1 800 607 7499
Villa Group Resorts is making this vacation package offer available to you. Besides meeting the qualifications and attending the Vacation Ownership presentation, there are no other obligations. Come enjoy your stay with us and learn about the benefits of Vacation Ownership!
Once you've booked your vacation with us, we will send a confirmation email to you with all the necessary reservation information. Please print out your confirmation email and have it present with you at time of check-in. Bienvenidos!
Credit Card
GUESTS WITHOUT A VALID CREDIT CARD WILL NOT BE ALLOWED TO CHECK IN TO THE RESORT UPON ARRIVAL.
Qualified customer/s Must bring with them an official Credit Card (No Debit Cards, Check Cards, Company Cards or Discovery Cards).
Presentation
The Vacation Ownership presentation will take place on the day after arrival.
Age
At least one of the qualified participants must be in the age range of 30 to 70 years old (Either spouse may meet the age requirement) and be legally able to execute a contract. Single women must be between 30 to 70 years. Cohabitating couples must be from 35-55 years old (Both Partners must Meet the Age Requirement).
Income
US Citizens/Residents with a minimum $50,000 USD Annual Household income, Canadian Citizens/Residents with a minimum $75,000 Canadian Dollars. Not a full time student and in a full time employment at the time of travel.
Language
Both qualified participants must be fluent in English or Spanish.
Identification
Two forms of identification are required for check-in and the presentation: Valid driver's license, State issued ID card or Passport and at least one Major Credit Card. A check/debit card with Visa or MasterCard logo or Discover card is NOT accepted for qualification purposes but can be used for the purchase of the package and for use at the resort.
Marital Status
Qualified participants must be married or cohabitating and traveling together. Also, both must attend the sales presentation together. Cohabitating couples must have with them proof of cohabitation (i.e. MATCHING ADDRESSES on driver's license or State issued ID card, Shared bank account information or lease agreement). Cohabitating English couples must present matching government issued ID's and both must be legally divorced, legally widow or legally separated.
Singles
A legally single female that is a citizen or permanent resident of the USA or Canada who meets all qualifications on her own can also qualify for this promotional offer. Single men can NOT qualify.
Countries
Qualified participants must be citizens or permanent residents of United States or Canada. Citizens from the Province of Quebec in Canada are not eligible. Citizens from all other provinces in Canada can be eligible.
Group Travel
Maximum of 8 peopleper tour between adults and children. Maximum of 8 people per tour. Specifically in a ratio of 4 adults and 4 children.
Only one package purchases per group are allowed for this promotion. If friendsand/or family traveling together exceed the amount of allowed packages sold, the benefitsof the promotion will be negatedand the full rack rate will be charged to the original purchasing credit cards of the group as a whole. Travelling together is understood as any group of family and /or friends that take advantage of the same promotion during similar dates, same destination, and attending the same resort presentation. Omission of information and/or misleading of pertinent information regarding group travel will be subject to the above mentioned penalizations.
When friends or/and family are travelling together the benefit of the promotion will apply for the first two qualified registered couples.
Retirees
This promotional offer is not available for any retired couple or single female that is retired no matter what their age is.
Additional Terms
This vacation package offer can NOT be combined with any other vacation offers. Current Villa Group Vacation Ownership owners, guests that have previously attended a Villa Group Resorts presentation (with a promotional offer) and employees of travel related industries such as: Travel Agencies, Timeshare exchanges, No military personal, Airlines, Hotel and Resort Employees, ministers or pastors, etc., are NOT eligible for this vacation package offer. Failure to meet any of the above qualifications may result in a charge back of the retail vacation package rate. First night in Mexico must be at a Villa Group affiliated hotel.
IMPORTANT: FAILURE TO ABIDE BY OR MEET THESE TERMS AND CONDITIONS WILL INCUR A $480 USD CHARGE TO YOUR CREDIT CARD.
Re-Scheduling & Cancellation Policy
Re-Scheduling Policy
Once your reservation is made with us, you may re-schedule or make changes one time with no fees. Subsequent changes to your reservation are subject to a $99 processing fee.
Cancelation Policy
Certificate is non-refundable. Resort Fees are non-refundable.
Within 72 Hours of Arrival
If you need to re-schedule or cancel within seventy-two (72) hours of your arrival date, you can do this for a one night room charge at the additional night rate, plus a $100 processing fee.
No Show, Early Checkout or Unused Nights
No refunds will be given for no-shows, early checkouts or unused nights.
GET THIS AMAZING PACKAGE FOR ONLY
$399
BOOK NOW