Imagine an idyllic beach hidden from the horizon, where only the birds and the airplanes can catch a glimpse of its turquoise waters lapping upon its sands. Image a place where you have to wade through the sea beneath a magical cave to arrive to its shores. Imagine Playa Escondida.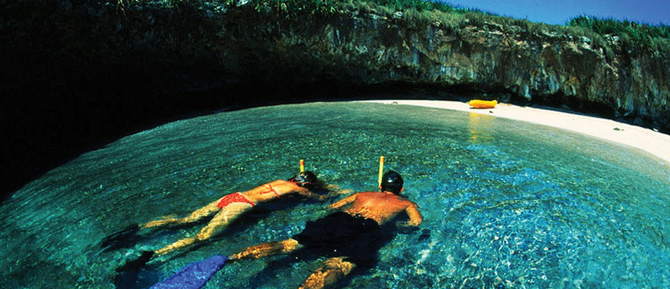 Playa Escondida or the Hidden Beach in Mexico as its would be called in English is one of the most exquisite attractions claimed by all the top destinations in and around Banderas Bay from Punta Mita to Puerto Vallarta. A protected ecological zone, Playa Escondida is the pulsing heart of Las Marietas Islands, which were formed over millions of years by volcanic activity and can be reached only by boat (or skydive!!!).
Why is the beach called Playa Escondida?
The reason for calling the beach Playa Escondida is that you can only see it from the air. Over the millennium, the sea carved out a wide cave beneath one of the Marietas Islands and a sinkhole formed in the center of the island leaving bare an open circle. Through this large hole, the hidden beach is revealed like a winking eye.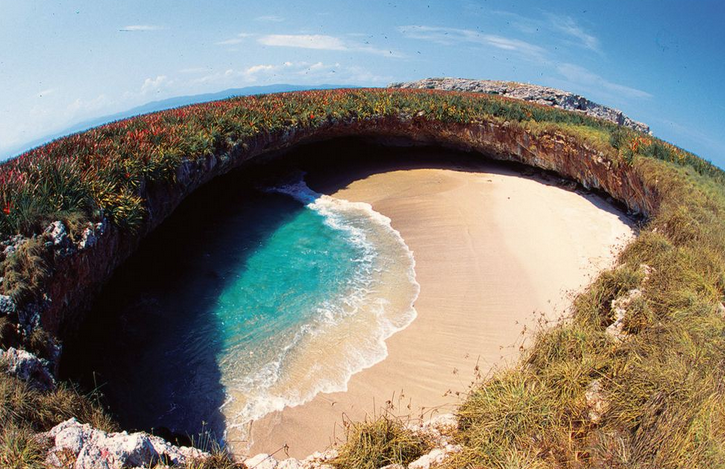 How to get to Playa Escondida?
In order to get to Playa Escondida you will have to arrive by boat – paddle boarding would possibly wear you out by the time you arrived! There are various tours you can take from Puerto Vallarta and Nuevo Vallarta which will schedule a stop at Las Marietas Islands and give you time to explore Playa Escondida hidden at the center of the islands. Alternatively, you can charter a private yacht or small boat to take you at your leisure.
What can you see at Playa Escondida?
Playa Escondida and the Marietas Islands in general are famed for being home to the blue-footed booby. You can also catch sightings of dolphins, sea turtles and tropical fish on your journey towards Playa Escondida, and humpback whales can be seen during the winter months.