When vacationing on the Yucatan Peninsula in Mexico you would really be missing out if you didn't visit Isla Mujeres; otherwise known as the Island of Women this place has some interesting history. On Isla Mujeres there is a Mayan Temple to the Goddess Ixchel. It is said that when the Spanish arrived they found Isla Mujeres to be littered with small statuettes of women, in honor of the Goddess, and this is how it got it's name. There are, of course, many other places to visit!
Top Places to Visit on Isla Mujeres, Mexico
Womens Beading Co-op
If you'd like a taste of the real Mexico then this unique place should be at the top of your to do list! The women here produce lovely, hand-crafted jewellery that is stunningly well-made and really quite beautiful. Buying a piece from the co-op not only makes an interesting gift or souvenir, but also supports the local community!
MUSA: Subaquatic Museum
Art lovers and diving enthusiasts alike will love this showroom in Mexico's Caribbean. On the seabed just off the coast of Isla Mujeres, the work of international and national artists alike have been placed on the seabed to make a man-made reef. This attraction has a surreal, magical feel that you won't quickly forget!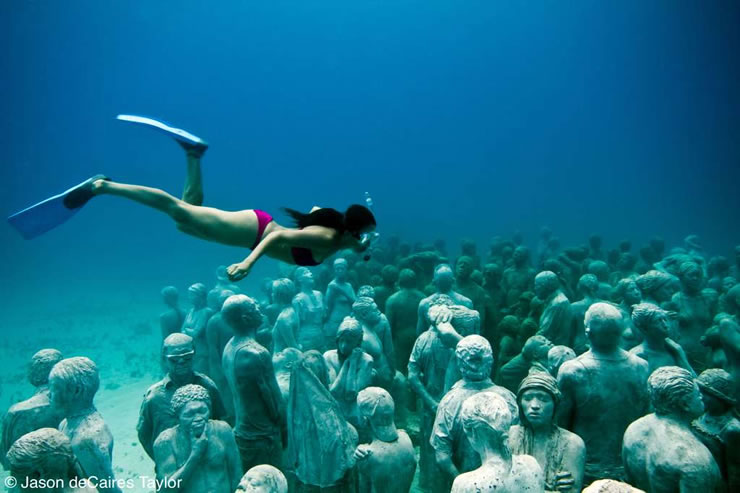 Punta Sur Sculpture Garden
For only three dollars you can gain access to this wonderful and ever changing exhibit! Local and international artists alike have created contemporary sculptures to be places on this rocky area of Isla Mujeres. As the sculptures erode the display changes and evolves; this is an attraction you could visit again and again.
Playa Norte
Those who want to relax for the day on a typical Caribbean beach will find that Playa Norte is the perfect spot! This beach has it all: clean, warm waters, white sand, beach bars, and great weather. What's more the water is perfect for swimming and wading; the drop off is so subtle and shallow so you won't find yourself suddenly out of your depth.
Turtle sanctuary
Here you can see the work being done, by volunteers and employees alike, to conserve and save the turtles of Mexico's Yucatan Peninsula. These hard working men and women gather and protect eggs laid by visiting turtles to Isla Mujeres; keeping them safe until it is time to release them into the wild.