Imagine seeing hundreds of cute baby sea turtles hurrying towards the Pacific Ocean. That is just one of the possible sights in store for you while in Puerto Vallarta on vacation. Puerto Vallarta's baby turtle season begins in July, although marine turtles arrive to Puerto Vallarta's beaches to lay their eggs throughout the whole year. July through November is peak season for baby turtles and is the time when Puerto Vallarta's authorities are most busy collecting turtle eggs to take them to sanctuaries where the baby turtles have more chance of survival.
Baby turtles have less than 1% survival rate thanks to all kinds of predators and risks, including humans stealing eggs to sell as delicacies. Thankfully, sea turtles are protected by the Mexican government, which is why there are programs in place to collect eggs to avoid them being stolen or eaten by predators. It is not uncommon to be sat on a beach in Puerto Vallarta and sea a marine turtle arrive to lay her eggs. You would think she would be concerned about having an audience, but when turtles lay their eggs they go into a kind of trance, where nothing bothers them, which is also why their eggs need to be protected.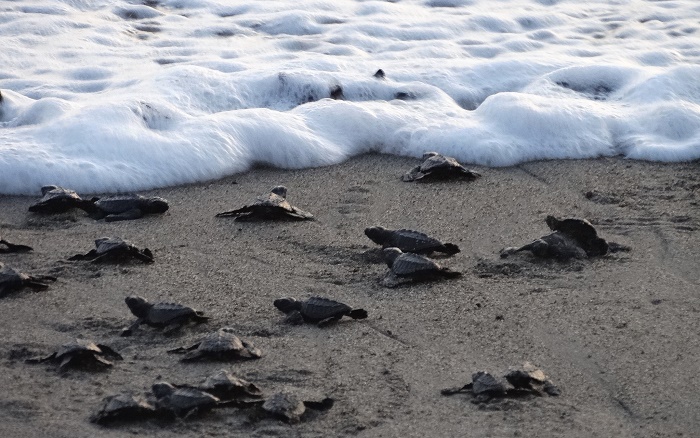 During Puerto Vallarta's baby turtle season, authorities are notified by local business anytime a turtle is seen laying her eggs. While the eggs are taken to a sanctuary to mature and hatch, the turtle hatchlings are taken back to the same beach to be released into the sea, often at sunset or at night to give the baby turtles greater chance of survival from predators. As turtles are renowned for returning to the same beaches to lay their eggs, it is no wonder that Puerto Vallarta is blessed with the return each year of these incredible creatures.
So next time you visit Puerto Vallarta, keep an eye open for turtles and ask at your hotel where the next turtle hatchlings will be released. At the height of Puerto Vallarta's baby turtle season, baby turtles are released almost 2 or 3 times a week.