The Malecón is one of Puerto Vallarta's most beloved features. The famed ocean view boardwalk is a mile long and forms a sea wall that protects the shops, bars and restaurants from the Pacific Ocean on Banderas Bay. The Malecón is the central point of Puerto Vallarta's down-town area and it provides a pleasant promenade for tourists and locals alike; a sea view without the sand in your shoes, so to speak.
Tourists visiting Puerto Vallarta should definitely put a visit to the Malecón on their to do list as there are numerous shops, bars, nightclubs and restaurants to enjoy there. It is perfectly placed to offer a stunning view of the sunset while having dinner. The sunset is captured perfectly in the arms of Banderas Bay.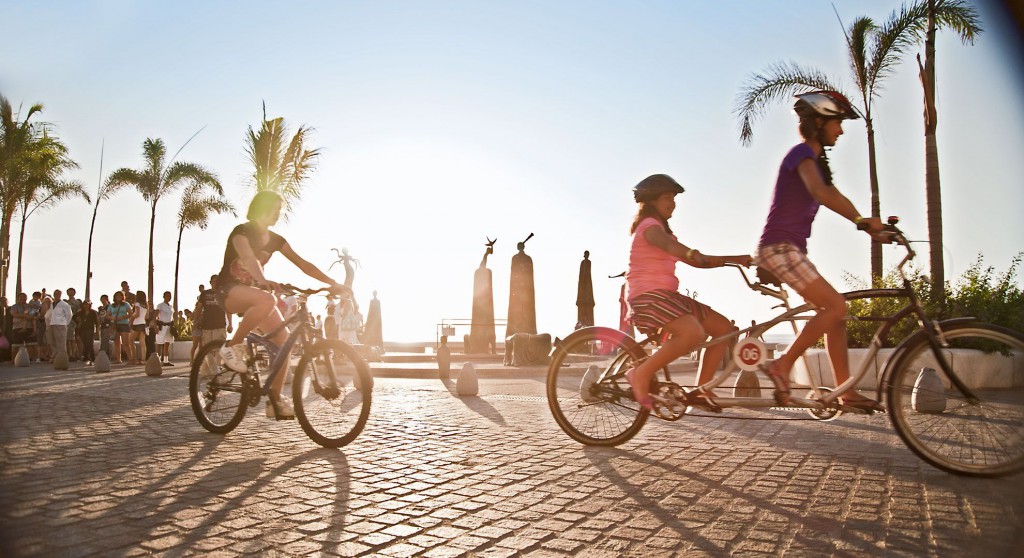 To further improve the experience for pedestrians, the Malecon has recently been renovated so that pedestrians can wander among palm trees, bugambilia and tropical plants in their overflowing flower beds. Even the ground has been adorned in honour of the indigenous tribes of the area. Pebble work has been implanted into the ground depicting sacred Huichol symbols. These are mainly animals and representations of nature and the cosmos. It is a wondrous thing to see and has been done with such care!
Along the course of the boardwalk there are, at regular intervals, sculptures crafted by mostly local, Mexican artists. You can even opt to take a guided tour of these sculptures in English, if you want to learn more about Jalisco and Nayarit's artistic heritage (Ask at Galeria Pacifico for more information). As you continue further towards the Old Town, you'll come across a brand new pier from which you can take ferry trips to some of the idyllic beaches of Puerto Vallarta that can only be reached by boat.
There is also an outdoor amphitheatre near the plaza and Our Lady of Guadalupe church where free daily performances are held. This meeting point is a hub of artisans, street performers and merchants who will delight and entertain you.